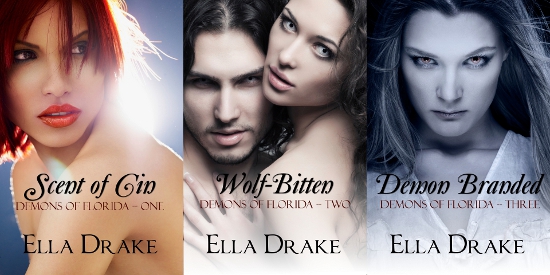 I hinted at an announcement recently, and here it is. I have a new series!
Demons of Florida
. The first two books are re-releases,
Scent of Cin
and
Wolf-Bitten
. Both novellas have been slightly expanded and re-edited.
Scent of Cin
is already out in the wild.
Wolf-Bitten
is due to hit the e-shelves on December 1. A novella that will tie them all together,
Demon Branded
, releases March 1, 2013 along with an ebook bundle of all three and a print anthology.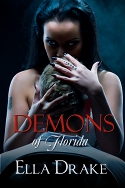 Demons of Florida
, an alternative world where demons have broken through a rip in the ozone and are inhabiting Florida, spreading their reach through Georgia and into the rest of the United States. Demon hunters fight off the demon's lackeys, Hellions. Werewolves, natural enemies of the demons have come out of hiding, facing the deadly Hunters of Orion. Magic meets power. Only love can bring the factions together in hopes of a future for humanity.