Now available, an erotic romance anthology including my short story,
Dragon Rodeo
. Leave a comment & I will pick a random winner for a digital copy of the book (deadline Wed, Oct 10th, 11:59pm EST). This anthology will also be available in print (more on that soon!).
Come find a great story, a new to you author, or a tasty tidbit to tantalize.
Passionate Exhibitions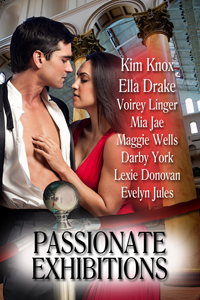 Museums. Places of grandeur and mystery, hidden corners and secrets. Walk the halls of any museum and find a past life in a necklace, an alternate reality in a painting, a terrible curse from a statue, or your wildest fantasies come to life. From the distant past to the far-flung future, these stories will titillate and tantalize. Welcome to the Passionate Exhibition.
Under The Lion's Curse by Kim Knox
Dragon Rodeo by Ella Drake
Worshiping His Goddess by Voirey Linger
Good Vibrations by Mia Jae
Portrait of Passion by Maggie Wells
The Duke by Darby York
Virtual Encounters by Lexie Donovan
Human Touch by Evelyn Jules
Dragon Rodeo by Ella Drake
Fantasy/Alternate Reality Romance --
Short Story
(Anthology)
Drawn to her local museum, Kellie can't keep away from a certain compelling painting. The oils seem real and the scent of the scene, nearly tangible. When the artist approaches her, his touch sends them into a world of fantasy, of dragons. Their passion ignites and reality blurs. Rand, the intriguing bronc rider, is hers, if only she learns how to keep him.