Welcome to the
SFR Brigade's midsummer blog hop
! This blog extravaganza has wonderful prizes including a Kindle Touch and an SFR library. Plus all the participants have goodies on their own blogs. Check
here
so you won't miss a stop and get all the details.
Today, I'm providing your choice of any of my Science Fiction Romance ebooks:
Desert Blade
,
Jaq's Harp
,
Braided Silk
,
Silver Bound
, or
Firestorm on E'Terra
to a random winner.
My latest release,
Desert Blade
is a post-apocalyptic romance set in the midwest of the US. In a scene of this story, the heroine, Doctor Lidia Sullivan says she'll miss her Pride and Prejudice DVD.
To enter the contest, just tell me what movie you'd miss if the world ended (and don't forget your contact information)
.
Enjoy the rest of the blog hop!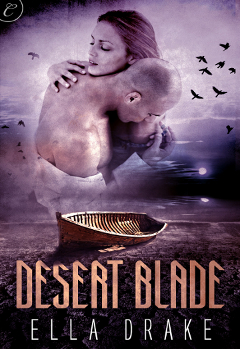 Near-Future, Science Fiction Romance, Post-Apocalyptic -- Novella
In the post-apocalyptic Midwest, now a ravaged dust bowl, former guardsman Derek Covington must find help for a sick boy. With nothing but memories of all he lost, Derek crosses the desert alone in search of the doctor who saved his own life ten years ago. Drifter gangs who loot and pillage don't dare come near, for Derek has a formidable weapon: a prosthetic arm with a deadly blade.
For a decade, Dr. Lidia Sullivan has fantasized about the handsome guardsman who'd been in her care. And now she can't deny his dangerous request. But as they make the treacherous journey back to Old St. Louis, they must contend with much more than fierce desert winds and their unthinkable attraction. A fearless gang has spotted Lidia—a rare woman—and will fight Derek to the death to get her. And though he risks his life to save her for the sake of the child who needs her, she fears there's one thing Derek will never risk: his heart.
27,000 words
Available from: Carina Press and other retail outlets.
Don't Forget:
to enter the contest, tell me what movie you'd miss if the world ended. Plus, you must provide some way for me to contact you.