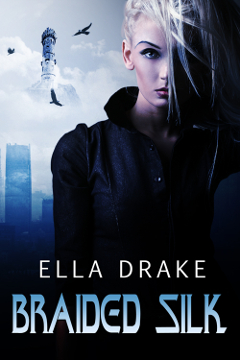 Braided Silk
has released from
Liquid Silver Books
! This novella features a future of urban sprawl, pollution, bio-tech, and an out-of-control mad scientist. But it's also a story of self, finding what it means to be human, and love. Between primal attraction and expectations, love can get lost, but Zel and Langley struggle to find and keep that bond between them.
My second
Future Tale
,
Braided Silk
is another twisted fairytale in the futuristic setting of
New Castle
. Read an
excerpt
on my website, or
check it out at Liquid Silver Books
.
Braided Silk
Futuristic Romance/Twisted Fairytale/Biopunk -- Novella
Rapunzel was made with technologically advanced hair. As a trained Mother agent, Zel can't escape the DNA that makes her a pawn in corporate espionage. Kidnapped and held in a tower on Gothel Island, she falls to the sexual allure of her captor's son, Langley, a man whose every tantalizing touch makes her forget she wasn't born human.
Langley Gothel protests the existence of creations such as Zel, but when faced with losing her, he sees the truth: Life is precious, whether born, modified, or shaped in a Petri dish. He does the one thing he's thought he'd never do. He has to give up Zel, or become a mod. But will that be enough to get them down from the floating islands and safely to ground?
Also available from
All Romance eBooks
--
Amazon / Kindle
The first Future Tale, Jaq's Harp, is on sale for $1.99 through the month of November. If you haven't read it, not to worry, both novellas are stand-alone, but if you want more of the world of floating islands and futuristic fairytales, now's the time to check it out.
If you'd like a copy of
Braided Silk
, leave a comment! I'll pick a random commenter to win an ebook copy. Contest closes December 1st. Winner announced on the 2nd.