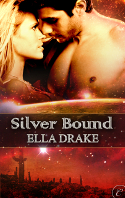 Joining in the
Six Sentence Sunday
fun with six lines from Silver Bound!
She forced her lips into a smile, and he moved again, silencing the flutters. He stepped between her bound, outstretched legs and bent over her. The rest of the room, everything, faded away, and all she saw, all she felt, all she breathed, came from him.

"Jewel," he whispered, his mouth against hers before he licked her shivering lips.

She moaned with the exquisite pleasure. His soft, luxurious clothes rubbed against her instantly aroused body, sensitive and aware of his every movement.
(Silver Bound will be available for free from
Carina Press on Wed. February 9th only
)
Be sure to visit other
Six Sentence Sunday
participants!