From Jaq's Harp:
The familiar need to keep her safe pissed him off again. Close enough to touch, he didn't. He put a hand on each side of her and leaned toward her until their exhales mixed, combined, caressed. Her scent, clean and rich, green, overwhelmed him and brought it all back, the feel of her in his arms, the wholeness of being with her.

She panted.

Good.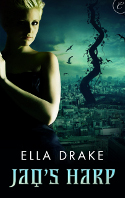 Thought I'd go with the general theme from last week of breathing. This is from
Jaq's Harp
, novella coming Feb 21st from Carina Press.
Be sure to visit other
Six Sentence Sunday
participants!
***
Text Copyright © 2011 by Ella Drake
Cover Art Copyright © 2011 by Harlequin Enterprises Limited
Permission to reproduce text granted by Harlequin Books S.A. Cover art used by arrangement with Harlequin Enterprises Limited. All rights reserved. ® and ™ are trademarks owned by Harlequin Enterprises Limited or its affiliated companies, used under license.