So happy to announce this!!!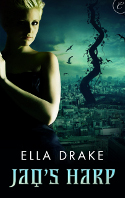 Jaq's Harp
Now available!
Futuristic Romance/Twisted Fairytale/Biopunk --
Short
(ebook)
In a world of floating islands and bio-engineered beans, the bad guys are taken down by agents of the Mother organization—agents like Jacqueline "Jaq" Robinson. Instead of accepting her next routine assignment, she sets out on a mission of her own—to destroy Giant Corp, the company responsible for her sister's wasting illness. Jaq must steal her cure from Giant's headquarters high above the city…even though she'll be brought face-to-face with Harper English, the man who left her to go deep undercover at Giant.
For Harp, Jaq had been a distraction the mercenary thought he couldn't afford. But once he sees her again, Harp knows he's made a mistake. Even though she vowed he won't have her again, it's clear they still have a powerful attraction. Harp's determined to get a second chance with Jaq—if they can escape Giant Corp and get back to solid ground in one piece…
Also available from:
Kindle
|
AllRomance.com
|
BooksOnBoard
|
Diesel
|
Nook
|
Kobo
To read the entire first chapter, check it out on
Kobo
.And then if you're here for part of Excerpt Monday & would like, please leave a comment!
Links to other Excerpt Monday writers
Note: I have not personally screened these excerpts. Please heed the ratings and be aware that the links may contain material that is not typical of my site.
As always, our hostesses Bria Quinlan (PG13), Alexia Reed (R), Rachel Jameson (PG13) and Kendal Corbitt (R) thank you for stopping by!