From
Jaq's Harp
, novella coming Feb 21st from Carina Press. This is a snippet from when our intrepid heroine, Jaq, is climbing the beanstalk:
Eyes closed against the dizzying sway of the vine, she took deep breaths. She could do this. She had to.

Her hands started to sweat. She held on tighter as a chill worked under her jacket. Behind her, a low churning sound grew louder.

***
Be sure to visit other
Six Sentence Sunday
participants!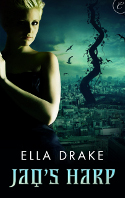 ***
Text Copyright © 2011 by Ella Drake
Cover Art Copyright © 2011 by Harlequin Enterprises Limited
Permission to reproduce text granted by Harlequin Books S.A. Cover art used by arrangement with Harlequin Enterprises Limited. All rights reserved. ® and ™ are trademarks owned by Harlequin Enterprises Limited or its affiliated companies, used under license.