Still celebrating the release of
Silver Bound
!
I've picked a random winner from my announcement list and emailed. (winner's email address starts with a V). I'll also be giving away a copy tomorrow (23rd) on the
Carina Press
blog, so there's another chance to win. Come visit!
In the meantime, here's a teaser:
Guy has Jewel where he wants her, or rather, he doesn't. It's his worst nightmare, he can touch her, she wants him to, but he can't. He shouldn't. But he really, really wants to.
Here's a small taste of
Silver Bound
.
***

Guy groaned, long and guttural. "Can I kiss you, sweetheart?" he asked in a choked rush. In a swift, graceful move, he sat next to her on the couch.
"Please." Nowhere inside her did she find any hesitation. He needn't have bothered to ask.

"I'm stopping with the kiss. You've allowed me that privilege before." A bleakness in his faraway expression, he stopped inches away. "I'm not taking anything from you. I'm just returning it now, like I borrowed it."

"You noble, noble man," she whispered and did as she'd longed to do. Pushing her fingers into his thick shiny hair, she shivered with the sensation like heavy silk stroking her palms. "Take what you want from me. I'm yours."

A pained grunt came from deep within his chest, and strong arms enveloped her, wrapped around her waist and pulled her tight against his solid strength. At last, in his arms, she gripped his head, bringing him to her, never wanting to let go. Soft petals flickered across her lips, brushed back and forth, before making firmer contact. Like home, secure, surrounded in peace and strength. And blazing passion.

He teased her, nipping at her, licking the seam of her mouth and sucking on her bottom lip. She whimpered and fisted her hands in his hair as she struggled to get nearer. She couldn't get close enough.

Slanting his head to a better angle, he slipped his tongue into her mouth to taste, to linger, to drive her wild with desire. His wet caress deepened, became forceful, hungry. This kiss was new, more urgent, more determined. Just, more.

Jewel hung there, swaying between heaven and desperation.

Then he pulled back.
***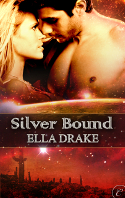 Silver Bound
A dangerous journey across the galaxy
Sheriff Guy Trident doesn't have much to do with off-worlders; he has his hands full keeping his own planet safe. But he'll do anything, go anywhere to save Jewel Quinn. She broke his heart years ago when she left to marry a Terraloft aristocrat. Now she's run away from her husband, only to fall into the clutches of slavers.
Posing as a wealthy playboy, Guy arrives at Zuthuru Station to learn he's too late: Jewel's memories have been erased. She's been tipped in silver, a process that leaves nothing behind except her body, sexually bound to pleasuring her master. Unwilling to give up hope, Guy buys her.
Jewel fights to reclaim herself, recalling a different connection to the handsome sheriff, remembering the frightened eyes of a young boy and the events that made her run. Together she and Guy search for her cure, plan her son's rescue from her ruthless ex, and test if they have any kind of future...before the past catches up to them.
Available from CarinaPress.com
Coming soon to audio from Audible.com

Also available from
Kindle, Nook, Diesel eBook Store,
& BooksOnBoard

EXCERPT from Silver Bound
Text Copyright © 2010 by Ella Drake
Cover Art Copyright © 2010 by Harlequin Enterprises Limited
Permission to reproduce text granted by Harlequin Books S.A. Cover art used by arrangement with Harlequin Enterprises Limited. All rights reserved. ® and ™ are trademarks owned by Harlequin Enterprises Limited or its affiliated companies, used under license.