Once a month, Bria Quinlan and Alexia Reed host a bunch of authors who get together and post excerpts from published books, contracted work or works in progress, and link to each other. You don't have to be published to participate–just be a writer with an excerpt you'd like to share. For more info on how to participate, head over to the Excerpt Monday site or click on the banner above!
***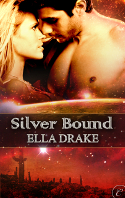 Silver Bound
is a space western, a story about a man who is supposed to uphold the law, a sheriff, who finds himself fighting his own nature and moral standards when forced to do something illegal--purchase a slave. But the slave is no stranger. Jewel is the love of Guy's life. She no longer remembers him, or her ex-husband, and he's doing all he can to keep things right.
This is a scene after he's broken his rule of no intimate contact. He's done so because he wants to ease the punishment her slave collar has given her.
This excerpt highlights the emotions the heroine, Jewel, struggles with. She has no memory, loves the man who bought her, and doesn't want to remember herself. She wants this new life. But, should she want to remember? What has she forgotten?
Excerpt from SILVER BOUND, available from
Carina Press
, Nov 22nd.
Text Copyright © 2010 by Ella Drake
Cover Art Copyright © 2010 by Harlequin Enterprises Limited
Permission to reproduce text granted by Harlequin Books S.A. Cover art used by arrangement with Harlequin Enterprises Limited. All rights reserved. ® and ™ are trademarks owned by Harlequin Enterprises Limited or its affiliated companies, used under license.
***

"Are you all right? The punishment should have backed off. Why are you still in pain?"
"Guy," [Jewel] breathed in relief.
When her swimming vision cleared, she caught sight of him hovering over the bed, concern tightening his mouth.
"No. It's not that." She swallowed the bitterness invading her mouth. "I had a memory. My husband."
"Ex-husband," Guy insisted, his face blanking as he backed away. "As soon as we get your memory back, you can get in touch with him. But I'm sorry, sweetheart. I don't know if it'd be a kindness to even talk to him since his wife is now an ex and is sexually bound to another man."
Jewel had a strong suspicion her ex-husband had no more than a passing acquaintance with the concept of kindness.
"However you want to handle it, we'll do it. I can't really think of a way to let you go back to him, though. But if you want to, I'll find a way if it kills me." Guy's expression remained bland, as if they'd never been intimate.
"No. I want to stay with you." She didn't dare move, even to clean away the evidence of what they'd just shared. The way he spoke chilled her.
"You say that now, but what do you think will happen when you get back your memories?"
"Let's not find out. Take me home," she pleaded. The word "home" curled around her tongue and softened the panic inside her. She'd been in Guy's home. She knew that, quite utterly.
"I can't take you home until you're whole again." Guy turned his back to her and strode toward the bathroom where he'd spent an inordinate amount of time the past few days.
She had no response and fought the sting of threatening tears when the door closed. Without him, the man she craved as much as she loved—a love she absolutely knew she'd always felt—she'd never be whole again.
The question was, did she deserve him? The memory that had surfaced, unbidden, had hinted that she'd cheated on her husband. She'd been an adulteress.
She didn't want to remember herself. Not at all.
***

For more, including the opening scene to Silver Bound, see my
website
.
Links to other Excerpt Monday writers
Note: I have not personally screened these excerpts. Please heed the ratings and be aware that the links may contain material that is not typical of my site.
As always, our hostesses Bria Quinlan (PG13), Alexia Reed (R), Rachel Jameson (PG13) and Kendal Corbitt (R) thank you for stopping by!