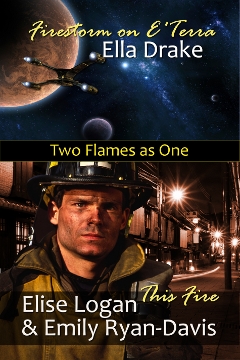 I'm celebrating my birthday this month and I'd love to give you stuff! Isn't that what birthdays are all about? Well, okay, usually you give things to the birthday gal, but not on this blog!
What I'd most love to give everyone is pleasant, moderate temperatures since it's so hot here this week, but since I can't do that, I'll have to settle for putting my red-hot space-faring fireman story up for grabs.
"
Firestorm on E'Terra
" is a science fiction romance novella. It's a finalist in the 2010 PRISM awards. It's paired in a hot anthology with "This Fire" by Elise Logan and Emily Ryan-Davis. And it features cold, tasty futuristic smoothies, which sounds good about right now on such a scorching day.
If those aren't enough reasons to read the story, here's another taste (
rated adult
).
"What change did you make to the shake today?" Dex's dark brown eyes twinkled, but he didn't let the grin threatening the corners of his mouth slip free.

"Oh. Didn't have time to mix one. With the aborted mission, I only had time to come straight here."

Samy could have sworn his kissable lips sunk down momentarily into a frown. Did he actually look forward to her health shakes? She made a flash decision—one she'd have to mark down in her personal journal—one so out of character it'd likely need to be evaluated by the military psych unit.

"Would you like to return to my cabin to try my latest recipe?"

Holy stars.

Did she just ask him that?

Like a schoolgirl, she wanted to blush and stare at her feet. The absolute strongest of wills made her stand there, look him in the eye, and wait on her rejection. He ran a towel over his military short, nearly shaved head and scrubbed back and forth before he answered. Waiting on his reply, she stared at his lips and strong chin accentuated by a small soul patch. She'd never liked facial hair before, but she flashed on a recurring fantasy of that patch of hair rubbing the inside of her thighs.

She blinked and crossed her arms over her chest. Her nipples had hardened until they hurt.

"Sounds like a plan, ma'am."

Now what the hell would she do?
Copyright © 2009 Ella Drake
All rights reserved — published by Liquid Silver Books
excerpt edited slightly for readability
So, all ya gotta do is leave me a comment for a chance to win either the digital format, published by Liquid Silver Books in the
Hearts Afire: December
anthology, or the print version in
Two Flames as One
.
***important***
I'll be holding a contest like this one every Wednesday this month. I'll pick a winner for the previous week each Wednesday morning, so get your comments in by Tuesday midnight (EST).
Be sure to comment in each contest because you get a second chance to win!
At the end of the month, I'll pick a winner from all comments for a $25 gift card from winner's choice between AllRomanceEbooks.com, Amazon.com, or Barnes & Noble.