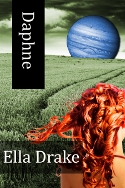 The next installment of my weird SF serial
The Adventures of Daphne
is now available.
When we first saw Daphne
, she'd just gotten the better of a bunch of creepy crawly carnivorous space worms.
Then
, she helped a few military-types rescue her, followed by an
inquiry
into all that's happened. Take a look at the next installment of Space-D.
The story is on my website:
Daphne, Episode Four
Welcome to the special Summer Full Reads for Excerpt Monday. This month, in addition to our typical excerpt week, we're having a week of full stories written by several fabulous EM writers. Visit the
Excerpt Monday site!
or click on the banner above.