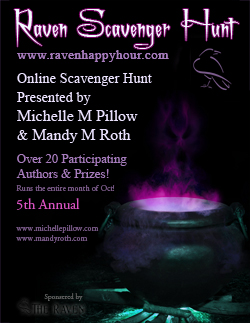 My upcoming release, The Forbidden Chamber (ebook), is a contest prize in the Raven 5th Annual Scavenger Hunt. Come Play! Contest Open Month of October 2009
HOW TO ENTER
1. Contest open to 18 years and older!
2. Search the author's websites at the links provided and answer ALL 27 Questions.
3. Send ALL Answers, Name, Email and Mailing Address to
EMAIL: michelle_pillow AT yahoo.com
SUBJECT: Raven Hunt 2009
PRIZES*
Autographed book Dragons Prefer Blondes by Candace Havens
E-book Ambient Light by Mandy M Roth
Print book Red Light Specialists by Michelle M Pillow & Mandy M Roth (for Raven Happy Hour)
E-book from N.J. Walters' backlist (winner's choice)
E-book from Bianca D'Arc's backlist (winner's choice)
E-book from Candice Gilmer's currently available backlist (winner's choice)
Belong to the Night by Cynthia Eden (print paranormal romance anthology)
Tea for Two by Shelley Munro (print)
November ebook from Cobblestone - THE DEMON NEXT DOOR: ALI by Kate Austin
Forbidden: The Sacrifice (eBook copy) by Samantha Sommersby
Autographed print book from Shiloh Walker's Backlist
E-book Divinity Warriors 1: Lilith Enraptured by Michelle M. Pillow
Mayan Secrets by Ciar Cullen (print US or Canada), ebook otherwise
E-book of Obsession (romantic suspense) by Sharon Cullen
Selkie Island by Jorrie Spencer
Autographed copy of Tempting Turquoise (print) by Amy Ruttan
Autographed copy of Hard Candy by Amanda Young
Adrienne (print) by D. Renee Bagby
Heart of the Volcano, ebook by Imogen Howson
E-book copy of Private Property by Leah Braemel
Furry, Fluffy & Wild (ebook anthology) by Nina Pierce
Venus In Blue Jeans (print) by Meg Benjamin
E-book copy of Lay Me Down in pfd format by Taige Crenshaw
The Forbidden Chamber (ebook) by Ella Drake
The Ghost Exterminator: A Love Story (ebook) by Vivi Andrews
Angelic Avenger (ebook) by Kaye Chambers
SPECIAL THANKS TO
CONTEST QUESTIONS at the Raven Halloween Hunt home page.